Perspective Art
Welcome to the Perspective Art website - for art by Mejun Evans.
Her major works span four separate series:
Cornwall Park (Auckland): Nov 2017 - Oct 2018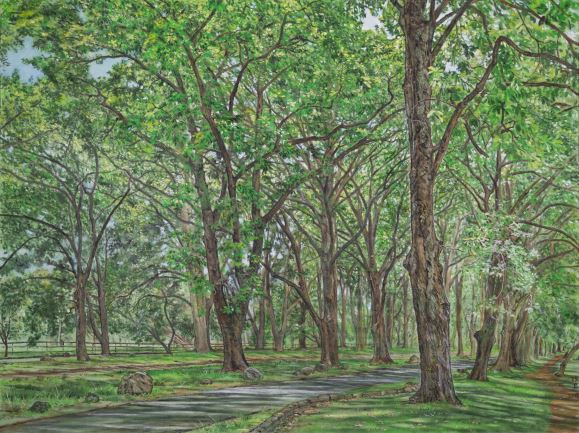 In late 2017 and most of 2018, Mejun did a series in Cornwall Park (Auckland). She had many warm conversations with people who were enjoying a walk in that part of the park, and stopped to talk with her. You could find her in Twin Oak Drive on most fine days over that period.
This series has five canvases in Twin Oak Drive - the four seasons (from different vantage points), plus Daffodils. It also includes a slightly smaller painting of the cherry blossoms in Spring.
Click here to view this series, or click on the picture itself.
Jewels of KeriKeri - 2016
From January to April 2016, Mejun had a 'sabatical' in Kerikeri (in Northland). She selected four stunning scenes in that area to capture in oils on canvas.
Click here to view these works, or click on the picture itself.
Beaches 2015

This series has five beach scenes - two at Whangamata, two at Tawharanui, and one at Flaxmill Bay (Coromandel) - which Mejun painted in 2015. It also includes a large canvas of Hunua Falls (painted in late 2014).
Click here to view these paintings, or click on the picture itself.
Totara Park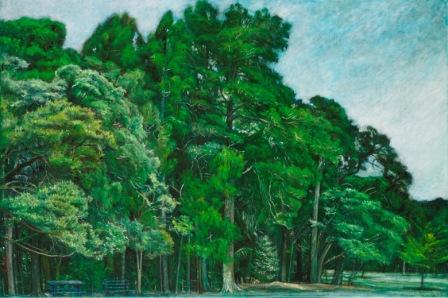 This is a fairly large series, which contains twelve canvases of various delightful nooks and cranies around Totara Park (in Manurewa). Mejun painted this over a period of two years from 2008 to 2010. They were displayed in an exhibition at the Visitors Centre of the Auckland Botanic Gardens spanning three weeks in September and October 2010.
Click here to view the works that were in this exhibition, or click on the picture itself.
Mediums and Styles
Mejun's favourite medium is oil on canvas, and she prefers to work in more traditional styles. She specialises in landscapes - and really enjoys painting New Zealand bush and water scenes. This enjoyment somehow finds its way into her works, and then into those who view them.
Purchase Prints or Originals
Prints of various landscape works are available for purchase. These are all high quality art prints on canvas. Some original works are also available.
Click here for more information on sizes and prices. Please telephone us on Auckland (09) 262 2010 to communicate your interest and discuss things further.
Commissioned Work
Mejun is able to do commissioned work of portraits and landscapes.
Contact Details
Use the special web-form to contact the artist.
Phone: Auckland 262 2010 (New Zealand: 09 262 2010, International: +64 9 262 2010)
Perspective Art Ltd.
PO Box 76-239, Manukau City, Auckland, New Zealand 2241
Background
Mejun Evans was born in Taiwan, and learnt her oil-painting skills in Hsin-Chu Teachers' College. She came to New Zealand in 1994, and now lives in Manukau with her husband and three adult / teenage children.
Mejun regards her becoming a Christian in 1995 as a crucial turning point of her life and art, helping her to see the world around her from a new perspective.
Her dream is to paint great scenery from all around New Zealand, and to share her love of nature with others, expressed through her eyes as an artist.
Recent News (2020)
This year (when not in lock-down), Mejun has been painting a couple of waterfalls in South Auckland: Waitangi Falls (near Glenbrook) and the waterfall / cascade in Henry Reserve near Patumahoe. Like all her other landscapes, she has used oil on canvas as her medium. We hope to get high-resolution photos of these done in the near future, so they are also available for those who want either of these landscapes as prints on canvas.
Biggest Milestone last year: Cornwall Park Exhibition (from 16 April to 5 May 19)
The works that Mejun painted in Cornwall Park over 2017 and 2018 (Twin Oak Drive in four seasons plus Daffodils, and Cherry Blossoms) were exhibited in the newly refurbished display room at the back of the Cornwall Park Visitors Centre for three weeks.
A few of Mejun's other works were also on display - from the Totara Park series, There was also a slideshow on a big screen, which included several photos of Mejun working in Twin Oak Drive (that people kindly sent to her), plus a number of other art works she has done.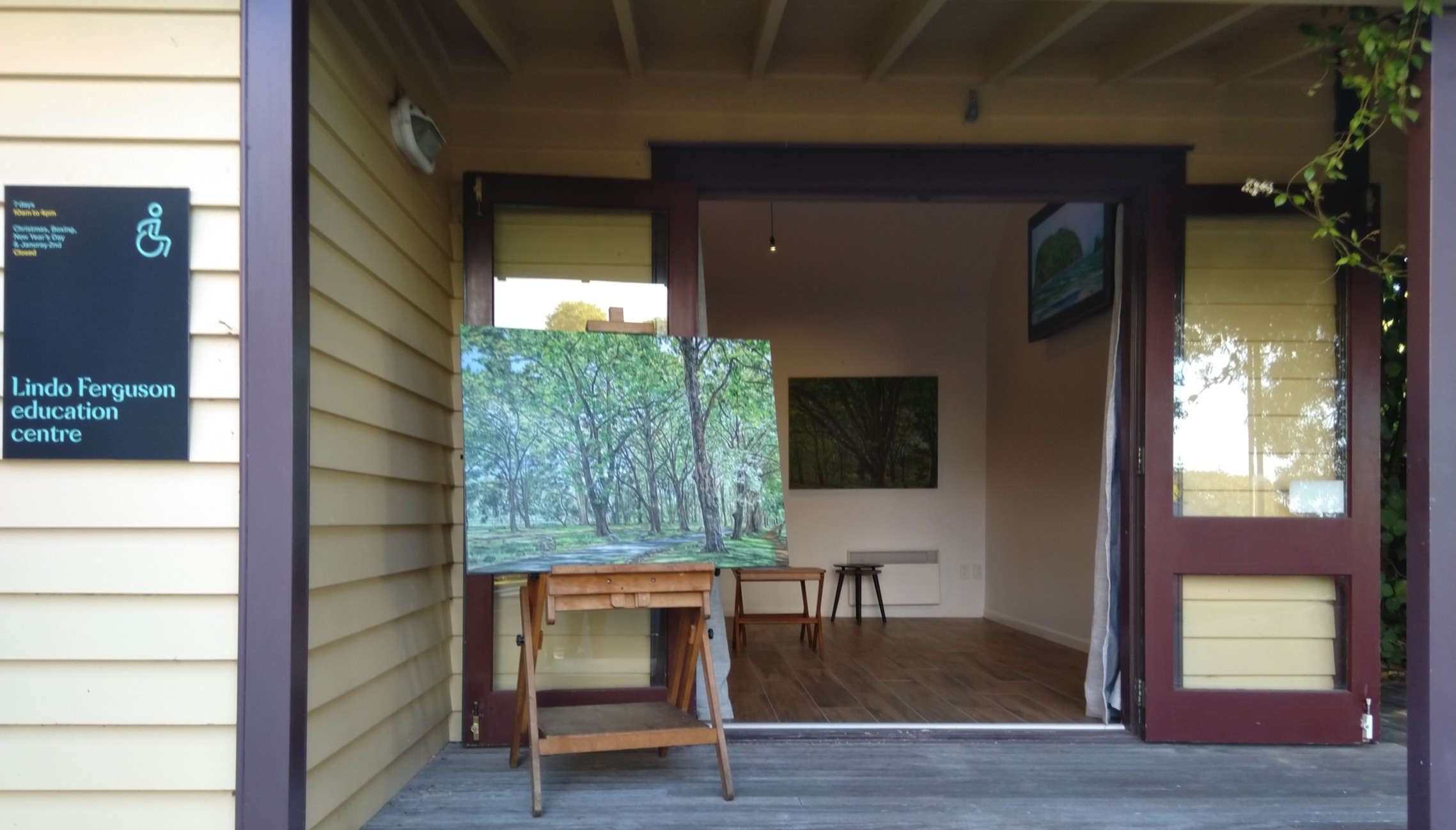 Yes, that was Mejun who featured briefly in the 'Seven Sharp' item on 1 August 2018 (at 1:26 and 2:34)